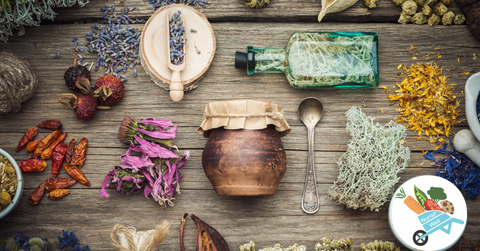 NURISH WELL
Brewja Blends are created by Nurish Wells Certified Holistic Culinary Nutrionist Sabrina Cooper, which are reflection of her passion to provide optimal wellness support for her clients individual needs. A passion when her journey began caring for patients needs as a Dental Hygienist for over twenty years.  It was within those four walls that she realized that there was so much more, so she lead with her gut and pursued her curiosities and interests to help other on their healing journeys.  
Inspired by so many people, places and cuisines she shared what she loved and learned through culinary workshop, leading, coaching & inspiring individuals to live out their best lives.  And so her company Nurish Well was founded.   
As Certified Holistic Culinary Nutritionist since 2016, she has pursued many passions which led to growth and experiences. These included certifications in Holistic, Vegetarian, Sports & Fitness Nutrition, Herbalism, Mindful and Intuitive Eating, Meditation & Yoga, Leadership & Coaching  and Natural Product Advisor. 
 She continues to inspire her clients to live a balanced lifestyle, a hunger for health through nourishing foods, mindful & intuitive eating, herbal support and relaxation techniques.  Healing from the inside out, listening to the body's needs, and providing inspiration to continue their journey in positive ways.  
Life is not linear, all the bumps, curves, hills can do a number on our hormones, and our gut flora which over time can lead to negative impacts on overall wellbeing.  Guiding and inspiring your individual wellness needs will allow more positivity and an energy which will attract more of what you want and less of what you don't.  
Products from Nurish Well and Brewja Blends provides health and wellness solutions focusing on:

GUT HEALTH
IMMUNE HEALTH
STRESS MANAGEMENT
HORMONE HEALTH
GENERAL WELLBEING
Virtual and In-Person Culinary Nutritional Workshops to spread the joy of healthy living and wellness is the ongoing mission of Sabrina Cooper founder of Nurish Well and Brewja Blends.
Feel free to contact Sabrina through the contact form for more information.

To inquire about Culinary Workshops or Wellness Coaching